Fellowes Brands Wins IDEA Design Award for New Elea Office Chair
The new Elea Office Chair from Fellowes is gaining notoriety for its distinctive design as well as its unique functionality. The Industrial Designers Society of America noted the elegant design and visionary engineering. The remarkable features have set Elea apart from all other office chairs in the workplace furnishing industry.
An Office Chair That Will Move You, Literally
The Elea patent-pending Omini-Kinetic Suspension Technology suspends the seat pan with steel rods that allows the seat—and you—to freely move while ensuring proper balance and stability. By introducing micro-movement into the workday, Elea encourages improved circulation, heart health, muscle and joint flexibility, and mental alertness.
The subtle movements of Elea flow in conjunction with body movement, so the chair syncopates with daily work activities. The user experiences a sense of energy and vitality not found in other office chairs.
An Office Chair Designed for Stability and Comfort 
Industrial-grade alloy steel rods and a cast aluminum framework together to form a unique load-bearing system, which allows free-movement within a durable construction.
A revolutionary designed curved chassis provides the support and comfort needed to carry you through your day for years to come.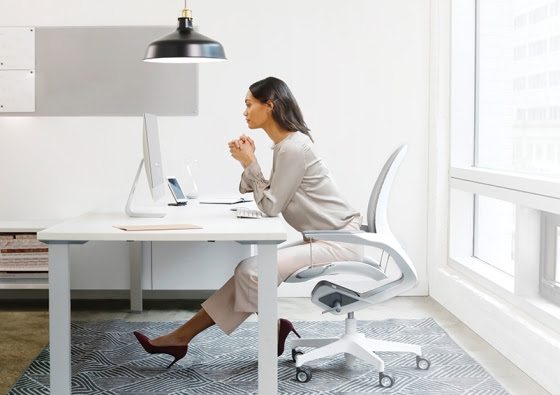 Driving a Robust Wellness Initiative
Elea is part of Fellowes Brand's objective to introduce innovative wellness furnishings into the modern office environment. Elea is a design and engineering achievement that supports this broader wellness goal.
The Elea is currently available for purchase from all Tara Group Members